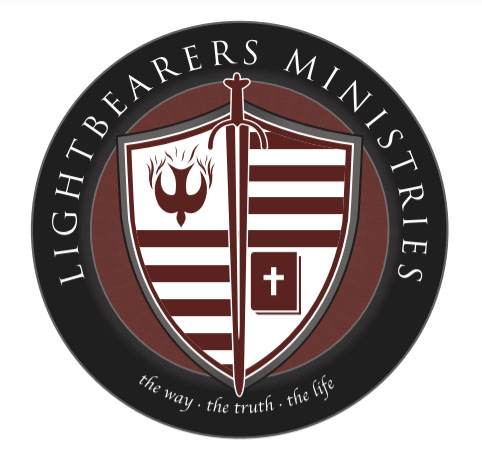 LIVING WATERS
from Lightbearers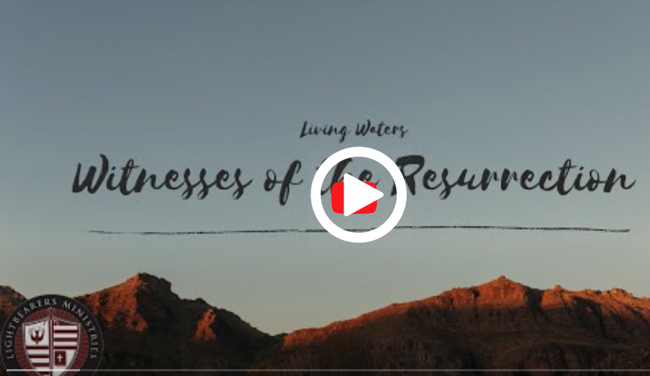 WITNESSES OF THE RESURRECTION
Go into all the world and preach the gospel to every creature. Mark 16:15 NKJV
The secret of communication is the power of influence. You can't communicate until you have someone at the place where they are willing to receive your communication. This is the failure point between parents and children, employers and employees, and virtually every human interaction, including our subject, sharing the Gospel. Communication goes through a door that can only be opened from the inside. Let me illustrate! Here are two incidents where I knew I had to get something from someone before I could communicate the Gospel to them. See if you can ascertain what I needed to get!
He who believes and is baptized will be saved; but he who does not believe will be condemned. Mark 16:16 NKJV
My boss used the Lord's name in a profane way in front of me. I politely asked him to join me in the conference room alone. He followed me in. I turned on him, backed him up against the wall, stuck my finger in his face and said, "Don't you EVER use THAT NAME in that way around me again!" I turned and walked out. I was playing chess with a guy who was a real chess prodigy. I was losing when I prayed and said, "Lord, for this man's sake I need to win this game." Immediately I began to make right moves beyond my chess training. Within about twenty minutes I had beaten the chess champion.
And these signs will follow those who believe: In My name they will cast out demons; they will speak with new tongues; Mark 16:17
I wound up leading both to the Lord. When they were disrespecting me by their words and actions, I had to do something to gain a measure of respect from them to the end I could influence them with the Gospel. I had to show strength to them. I had to give them a reason to follow my influence. When I gained that point, they readily followed. Whoever you want to communicate with – a guy on the bus, family members, community leaders, even a thousand people in a congregation – ask the Lord for influence in that immediate situation and listen to the Lord for His reply.
…they will take up serpents; and if they drink anything deadly, it will by no means hurt them; they will lay hands on the sick, and they will recover." Mark 16:18 NKJV
As the apostles in Acts showed us, the real art of influence is bringing the power of God into the situation. Influence releases trust, and when you have trust, you are in the door. Do you see?
How do you become a witness of the resurrection?
Therefore tongues are for a sign, not to those who believe but to unbelievers; 1 Cor 14:22 NKJV
The passion of our Lord, of which the Resurrection is the centerpiece, is unprecedented in human history. All the bloodthirsty gods of false religions have always demanded human sacrifice. The god of secular humanism, grandchild of Molech, has had sixty million sacrifices since 1973 in the USA. But in the passion of our Lord our God came down from Heaven and sacrificed Himself for all of mankind. Jesus as the great High Priest offered Himself as the Passover lamb for the sins of all mankind for all time. All the animal sacrifices of the OT laid their claim of legitimacy as an IOU on Messiah's sacrifice. Love can only weep when you look at the Cross!
The great sign of the witness of the Resurrection had to be something so simple that anyone could do it easily, yet so unique that It could not be counterfeited with deceitful miracles. Lots of religions have gross and deceptive lying signs and wonders. One guy in India 'slays' thousands of followers in the spirit. The Mormon god sends deceiving spirits to tell the gullible that Mormonism is true. Sincerity is no guarantee for truth. The great sign of tongues is that you speak another language with soundness and clarity and freedom of will, which is impossible according to the law of learning.
Tongues are a sign to unbelievers. A sign points to the significance of the work wrought, in this case that an individual has been infused with tangible power because of their belief in Jesus and His resurrection. People who do not believe in the resurrection cannot and never will, speak in tongues. (Are you feeling this yet…? C'mon!) The secular action/thriller novel I was reading made an interesting point – they said, the problem with religion is that they don't have any proof. This may be true of other religions and of so-called Christian religion, but it is not true of genuine, biblical Christianity.
Tongues changes you from being a 'hearsay' witness – someone who heard or read what someone else said – to a primary or eyewitness who can testify from personal experience. "I believed what the Word said about the resurrection…then I could do this wonderful thing – speak in tongues." Eyewitness!
Though I speak with the tongues of men and of angels, 1 Cor 13:1 NKJV
How are tongues a sign to unbelievers? They were a tremendous sign on the day of Pentecost. We can infer that the unbelieving Jews did not see the tongues of fire – because no one called for the fire department! – but they heard the Twelve speaking the wonderful works of God in their own languages. This is an operation of diverse kinds of tongues that I have seen in operation and experienced myself.
Tongues has two major functions in your life – as your daily prayer language and, at times of God's discretion and your enthusiastic willingness, as diverse kinds of tongues, to bring a message or sign from God through a different tongue than your normal prayer language. One dear saint I interviewed told of how she preached in Spanish in a church and understood what she was saying, having never been taught Spanish! You know, you never have these adventures when you are sitting at home, watching TV, but when you get out on the streets and are seeking to make Jesus relevant to someone's life, these things happen all the time. It's so much fun to be a Christian!
But you, beloved, building yourselves up on your most holy faith, praying in the Holy Spirit, keep yourselves in the love of God, looking for the mercy of our Lord Jesus Christ unto eternal life. Jude 20-21NKJV
I feel I am preaching a lot recently in these messages on tongues because you and I are going to need this great reality more and more in the coming days. Tongues is a sacrifice of prayer and praise and giving thanks well. God loves it and the devil hates, fears and despises it. Tongues is the exercise – for all you fellow exercise freaks – that strengthens your inner man so that all the others gifts and fruits can be abundant in your life. Tongues builds your faith, enabling you to do anything if you put in the work. Tongues is what allows Romans 8:28 to become a tangible reality in your life, not just a wish or a hope.
And we know that all things work together for good to those who love God, to those who are the called according to His purpose. Rom 8:28 NKJV
In the last article I talked about praying without ceasing – a command, by the way. Go back and read that again and get it down in your daily 'stuff.' You'll be so happy you did!
Let the great reality of tongues be a sign to YOU – that heaven is real, that the Word of God is true, that Jesus really did die and rise and live forever, and because He did, you and I, and all the born again ones who have gone before us, will too. That's being a witness of the resurrection. Love you!
Remember dear one, we must be about our Father's business…